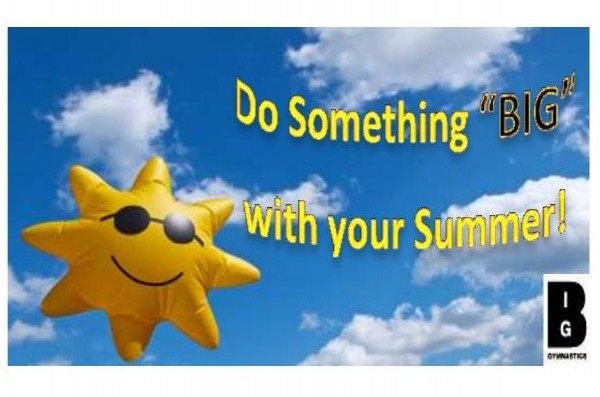 Summer Camp Schedule 2019
Princess Camps - $179.00
June 24th-26th or August 12th-14th
9:00am-Noon - Ages 3-6 years - must be potty-trained
Ninja Camps
June 24th-26th – Ninja Camp
9:00am-Noon - $179.00
July 29th – 1-day Ninja-palooza
11:00am-12:30pm - $30.00
August 12th - 1-day Ninja Camp
9:00am-Noon - $75.00
All Ninja Camps - 4-11 years – Co-Ed
Lion King Tot Camp - $30.00 per day
July 1st or July 2nd
9:00am-10:30am – Ages 3 and under with Parent – Co-Ed
Lego Movie & Superhero Camp - $179.00
July 8th-10th
9:00am-Noon – Ages 4-8 years – Co-Ed
"Gymnamaste" - $179.00
July 15th-17th
9:00am-Noon – Ages 6-11 years
Survivor – "A BIG Adventure" Camp - $179.00
July 22nd – 24th
9:00am-Noon – Ages 5-11 years – Co-Ed
Cheer, Dance & …. Tumble!! - $179.00
August 5th – 7th
9:00am-Noon – Ages 6-10 years
Flip-Flop Clinics - $30.00 per day
June 19th or July 3rd or July 30th or 31st
10:00am-11:30am – Ages 6 and up
*Must have a back-walkover*
Frozen 2 Camp - $120.00
November 25th – 26th
9:00am-12:00pm – Ages 3-6 years
***All Campers NOT in a TOT Camp MUST be Potty-Trained***
Summer Camp Descriptions
Lion King Tot Camp – Parent/Tot – A camp that touches the guidelines of our beloved Lion King movie as well as instruction of basic gymnastics. Your child will be able to practice different ways to move like an animal, as well as like a gymnast. The combination between gymnastics and the movie will help show kids we all have animal-like instincts! This camp will be structured for your child to enjoy a full-hour of gymnastics with Lion King inspired activities and 30 minutes of snack time and a special craft time that involves exploring your child's inner animal! Your child will not want to miss this!
Princess Camps – Our most popular camp every summer – this is a camp your princess-loving daughter won't want to miss! During this 3-day camp, girls will participate in different princess-themed gymnastics, games, dance segments and activities! They will also create magical princess crafts every day! Every morning the girls will be greeted by a different Disney Princess to start their day off on the enchanted journey that it is about to be. Then on the last day of camp, all families are invited to come and watch a special Princess Show and partake in a Tea Party with all the Princesses!
Ninja Camps – Modeled after BIG's Ninja Zone classes, the Ninja Summer Camps are non-stop energy designed to have your child leave tired! They will climb, tumble and jump their way through extensive obstacle courses every day as well as focus on strength, agility and balance training! There will be obstacle courses and stations set-up throughout the other events in the gym including bars and beam! It doesn't end there…they will incorporate Ninja Games and activities into this dynamic camp! There are 1- and 3-day Co-Ed camp options available as well as Ninja-Palooza – which includes a GIANT ninja obstacle course and open gym!
Lego Movie and Superhero Camp – Does your child love superheroes? What about the Lego Movies? We have the camp for you! We will be combining these 2 fun things into 1 camp! What could be better? At this camp, kids of all skill levels will be able to partake in different gymnastics activities and games all themed around our favorite movie and heroes! Every child will become their own superhero during craft time when they make their own superhero cape and mask and create their own story! They will then take their new-found secret identity back in the gym and must make their way through Superhero training courses! We will have giant Lego building contests with what else? Pit Blocks! The list of fun goes on and on! Join us and for an unforgettable camp!
Gymnamaste – This unique camp will be focused on gymnastics, yoga and overall health. This camp is for all skill levels who want to come in over the summer and develop their gymnastics skills. Your child will be skill building on all 4 Olympic Events: vault, bars, beam and floor. During the 3 days, we will also incorporate yoga to work on flexibility and focus. There will also be a Rhythmic Gymnastics Segment to help us all become more well-rounded gymnasts! Namaste!
Survivor – An Adventure Camp – This camp is adrenaline loaded! Just like the long-running television show, your child will be taking on multiple challenges over the 3 days and conquering them! From obstacle courses, relay races and capture the flag to jungle-themed gymnastics games and activities, this camp is quick paced and ALL fun! We will also be focusing on the importance of safety and incorporate a first aid segment into camp. It's going to be an adventure!
Cheer, Dance and Tumble Camp – If your child loves to cheer and is loud for all to hear, this camp if for them! Girls will learn basic cheer and tumbling skills as well as make crafts they will love! They will also learn cheers and routines that will be performed for families during a special show on the last day of camp!
Flip-Flop Clinics – We will be offering multiple clinics throughout the summer for girls to develop or perfect their flip-flops! Need that flip-flop for cheer tryouts? This is the clinic for you!
Frozen 2 Camp – Mark your calendars!!! Did you know that Frozen 2 is coming out this Fall!?! Here at BIG, we are counting down the days to the release! We will have a Thanksgiving week camp to celebrate our favorite characters! More information to come soon!